news
What are the best things to do in Broome?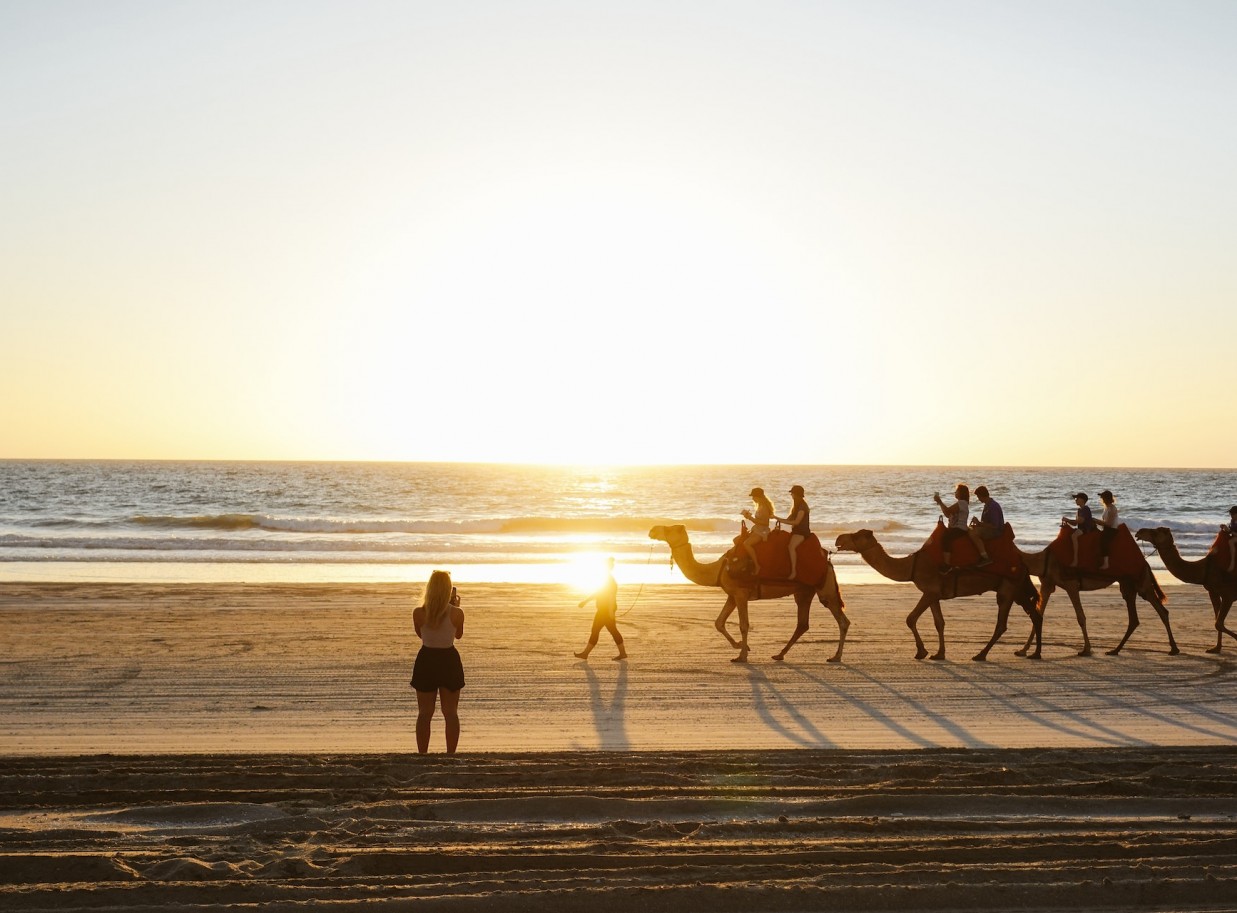 Nestled along the shores of Western Australia's tropical northwest coast, Broome is a captivating coastal town that's world-famous for a reason. As well as a sun-drenched holiday getaway of stunning landscapes and a vibrant outdoor culture, it's also got a rich and storied history—there's something for everyone to explore.
Every good holiday needs a place to make your base, and Mangrove Hotel takes prime spot. Located at the top of the hill on Carnarvon Street, just minutes from the centre of town and the airport, it's close to all the must-see—and lesser-known—tourist attractions.
Here's our list of the best things to do in Broome during your stay with us.
Dive into Broome's pearling history
Broome's thriving pearling industry dates back to the 1880s. Still going strong today, you can explore the history of this often dangerous occupation at the Broome Museum.
Learn about the people who made it possible, and gain an insight into the town's multicultural heritage. Visit the pearl showrooms on Dampier Terrace, or head further afield, taking a trip to a working pearl farm and experience it first-hand.
Take a walk around Chinatown
Broome's Chinatown is an historic district that has been the heart and soul of the town since its inception. Originating in the 1880s, Chinatown was established when pearling crews first set up their camps along the Roebuck Bay foreshore. The area features distinctive architecture that reflects the pivotal role Chinese immigrants had in the growth of the pearling industry.
Today, Chinatown is a crucial part of Broome's storied tapestry, where you can find a wide range of shops, restaurants, pearl showrooms, and pubs. Here you'll find the famous Sun Pictures, the world's oldest operating outdoor cinema, that offers a unique movie-watching experience under the stars.
Sink your feet into Cable Beach's pristine sands
Broome is also home to one of Australia's most famous beaches. Cable Beach is a 22-kilometre stretch of sparkling white sand and turquoise waters that's nothing short of breathtaking. Drop by for an early morning dip in the calm water, and marvel at the patterns in the sand created by sand bubbler crabs searching for food. Kick back on a sun lounge under an umbrella and while the day away, or get out on the water on a stand-up paddle board.
See Cable Beach on four legs
Taking a camel ride along Cable Beach is an iconic Broome activity, and you won't get one like it anywhere else. Gently bouncing and rocking as your camel traverses the soft sands, it's a unique way to experience stunning views out over the Indian Ocean. Led by knowledgeable guides who share interesting facts about the camels, the beach, and the Broome region, you'll connect with the natural beauty of Cable Beach in a memorable way.
Perfect for all ages, you'll find morning camel tours operating seasonally, with later afternoon rides ensuring children get the opportunity too. For those in a more romantic mood, the famous sunset camel ride lets you capture the breathtaking coastal scenery in a truly magical moment.
Witness the Staircase to the Moon
The Staircase to the Moon is a unique natural phenomenon that occurs during full moon between March and October. When the full moon rises over the exposed tidal flats of Roebuck Bay, it creates a mesmerising optical illusion resembling a staircase.
If you visit Broome at these times, you'll find a lively festival atmosphere, celebrated with local markets, food stalls, and cultural performances. But the best place to view it is from the Mangrove Hotel.
Step back in time at Gantheaume Point
One of the most special Broome experiences is stepping foot in the fossilised dinosaur footprints scattered along the coast. Offering a glimpse into the ancient past, discover an array of dinosaur footprints dating back over 130 million years to the Cretaceous period. The tracks belong to various dinosaur species, including carnivorous theropods, gigantic sauropods, and fleet-footed ornithopods.
While the prints can be found at several places along the rocky shoreline, Gantheaume Point is one of the most accessible spots to see them, with interpretive signage allowing visitors to learn about the history and significance of these remarkable prints.
Go whale watching on the crystal-clear water
An awe-inspiring activity for nature enthusiasts, whale-watching in Broome takes place from July to September, as humpback whales migrate along the Kimberly coast. The warm and clear waters create the perfect habitat for these magnificent creatures during their journey.
Tour operators in Broome offer a variety of whale-watching experiences, including boat tours and eco-cruises, providing excellent opportunities to spot humpback whales breaching the waves. Come face to face with these gentle giants; if you're lucky, you might even spot a family of whales playing with their calves, which is a truly special sight.
The best Broome accommodation for your outdoor holiday
However you enjoy your holidays, there's something for everyone in Broome. Whether it's an iconic experience like Staircase to the Moon, Cable Beach, and Chinatown; exploring history and walking in the footsteps of dinosaurs; or enjoying natural experiences like whale-watching, you want to make sure you're You want to be close to it all.
The Mangrove Hotel is the perfect location, with convenient access to all the best outdoor activities—and comfortable, luxurious rooms waiting for you at the end of the day.
So start planning your next Broome getaway, and book your stay at the Mangrove today.